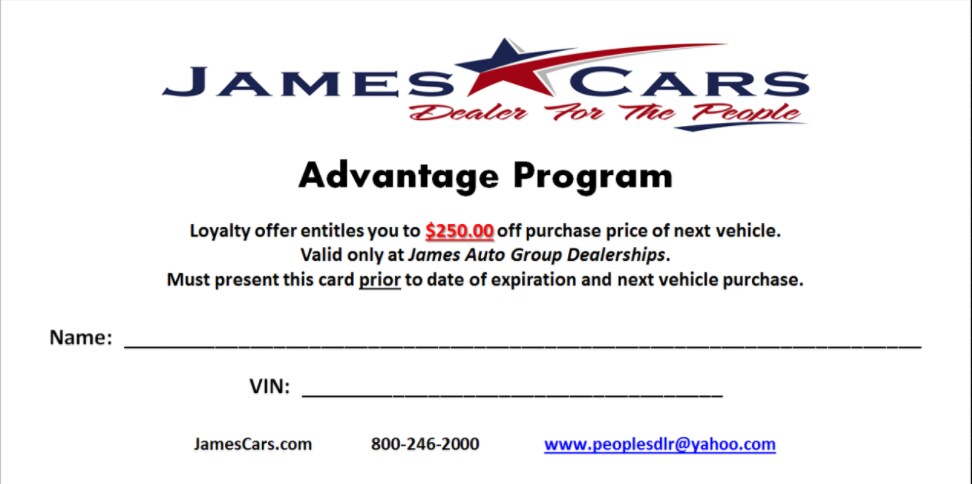 FOR FUTURE TERM OF LEASE OR OWNERSHIP
Oil Changes
in 7,000 mile intervals or per vehicle oil live indicator
45.00 maximum value per oil change, limit 3 per year
Difference charged for premium oils such as synthetic, etc.
Tire Rotations
Yearly NYS Inspections
$21.00 value, inspection and sticker only
Tire Purchases
$10 over dealer cost, installed by dealer only, excludes installation charges and fees
Paint-less Dent Repairs (PDR)
2 Dents/Dings per year, must present this card
Paint-less Dent/Ding Repair (PDR) is a process that uses specialized hand tools to gently push the dented metal back into its original form.
Maximum Dent/Ding size is 2" in diameter.
Dent/Ding must be on body panels and accessible by dent removal tools.
UP TO 20% DISCOUNT ON PARTS & SERVICE:
Posted Service Department Labor Rate
Manufacturer's Parts & Accessories at James Auto Group Dealerships

Begins one month from date of purchase. Valid only on vehicle listed on front of card. Valid only at James Auto Group dealerships. All offers plus state sales tax. No two offers combined. non-transferrable to next owner or family member.